Roofing Solutions
Incorporating Hotbond and Thermobond Heat Splice Technology
For over fifty years Haire Bros have specialised in the supply and installation of Butyl and EPDM rubber roofing systems on commercial, industrial and domestic flat and low pitched roofs.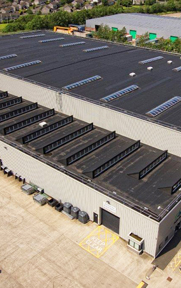 Butyl and EPDM roofing membranes have exceptional water and weather resistance. Tried and tested through decades of exposure to wind, water, sun, ice and air pollution they display no significant reduction in impermeability, strength or elasticity.
We have a range of systems suitable for industrial, commercial and domestic flat and low-pitched roofs. Fully engineered, high specification and extremely durable, these systems include all the components and detail solutions required to provide a guaranteed watertight roof.
NEW! Download Installation Instruction Leaflet and Price Enquiry Form for Prelasti EPDM D.I.Y. Flat Roof Kits. Prelasti EPDM has BBA certified life expectancy in excess of 40 years.
NEW! Download RUBBERSHELL SELF-ADHESIVE RUBBER MEMBRANE BROCHURE
Advantages
Quick and economical to install
Tried and tested over decades
Exceptionally durable and weather resistant
40 year life expectancy
Environmentally friendly - low weight, long life
No plasticizer or additive migration
Fully certified and approved
For further information and full technical specifications please visit the manufacturer's website www.sealeco.com