Geomembrane Solutions
Superseal EPDM Ribber Roofing with Thermobond Heat Splicing Technology.
Superseal roofing systems have a lifetime measured in decades, regardless of exposure to water, ice, temperature, ozone or UV.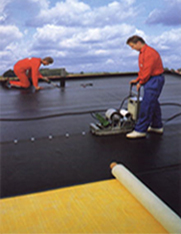 Superseal incorporates a tough EPDM fleece-backed membrane, jointed on site using Thermobond heat splicing (a unique, patented splicing technique developed by Trelleborg Building Systems, Sweden).
The Thermobond joints are made using hot air, without the need for adhesives, thus the integrity of the joints can be relied upon even when installing on a damp day.
Superseal is suitable for industrial, commercial and domestic flat and low-pitched roofs and is the best possible choice for new roof constructions as well as re-roofing with or without additional insulation
Advantages
EPDM rubber membrane with exceptional weather resistance
Chemically and thermally stable - no change in strength of elasticity between -30'C and +120'C
Thermobond spliced joints
Fire-retardant EPDM highly resistant to airborne embers
Fixing of membrance through both edges for maximum security
Lightweight per installed square metre
20 year guarantee - materials and workmanship
British Board of agreement certificate number 92/2799
For more information see here »